WEB DESIGN PRICES
-----------------------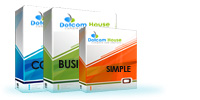 Select a package it contains web design, web hosting and seo packages which you are interested. Read More...

WEBSITE RE DESIGNING
-------------------------------------------
If you have an existing Website, we will help you to get it more creative and business generating than ever before. Whether it may be graphic design, static site, new content, updating new content, easy to use navigation and integrating new Web services such as Content Management System (CMS) and e Commerce solutions.

Reasons why you should get your website redesigned :

:: To get more people visit the site.
:: For better Search Engine Optimization, so that your site ranks among top.
:: For better " Look and feel".
:: To cope up with competitors.
:: The content should be easy to understand.
:: For easy navigation and keeping user for longer time on the website.

Dotcom house offers the following web design services:

:: Static Web Site Designing
:: Dynamic Web Site Designing
:: E-commerce Web Sites Designing
:: Flash Websites Designing
:: Website Templates Designing
:: Corporate websites
:: Database driven websites
:: E-commerce (B2B and B2C)
If you would like more information on how we can help you effectively communicate your brand and enhance your business through a professionally designed website, reach us an email or give us call. We pleased to hear about your project and share our ideas.

WEB SOLUTION BY TYPE
--------------------------------
Manufacturers and distributors

Tours and Travels

Medical and Healthcare

Retail and Consumer Groups

Schools and Colleges

Software and Computers

Exporters and Importers

Architecture and Interiors

Media and Entertainment

Hospitals and Clinic

Matrimonial Web Sites

Real Estate

Classifieds

Shopping Cart Sites

Real estate agents